Background
Freecycling is the process of giving away an unwanted item to another person who is in need. The movement has grown over the years to create new organizations that promote a gifting economy. Some of the most notable organizations in the freecycling community are Buy Nothing, Trash Nothing and Freecycle. The problem most of these organizations face is access to resources to build an effective platform to openly (and efficiently) give and receive donated items. With this platform, Gifted users are able to reduce waste and build their local community relationships through donating and receiving items.
The Challenge
The current experiences for freecycling apps was not ideal. Users are forced non-responsive sites or connecting to third party mobile applications. The issues uncovered from initial research was that users were forced to use non-mobile friendly desktop sites or surrender their privacy to connect via third party applications. The goal of this project was to create an all-in-one platform where users could connect to donate, receive, and communicate with one another.
Project Details:
Roles: User research, UX/UI design
Tools: Sketch, Invision, Procreate, paper and pencil
Pilot Study
In order to fully understand the types of Buy Nothing users, I conducted a pilot study through an online survey. In order to learn more about the users, survey questions focused on things like demographics, use cases, and frequency.
With the 114 responses from the pilot study, I was able to better understand the full spectrum of users. Common themes of community, convenience, and environmental responsibility. This data was used to craft personas for the new Gifted app. The results from the pilot study are shown below.
Key Findings:
Mobile users accounted for 48% of all responses

52% of users were in the age range of 18-34 years old

92% of participants were female

Top reasons users freecycled were to reduce waste and meet their neighbors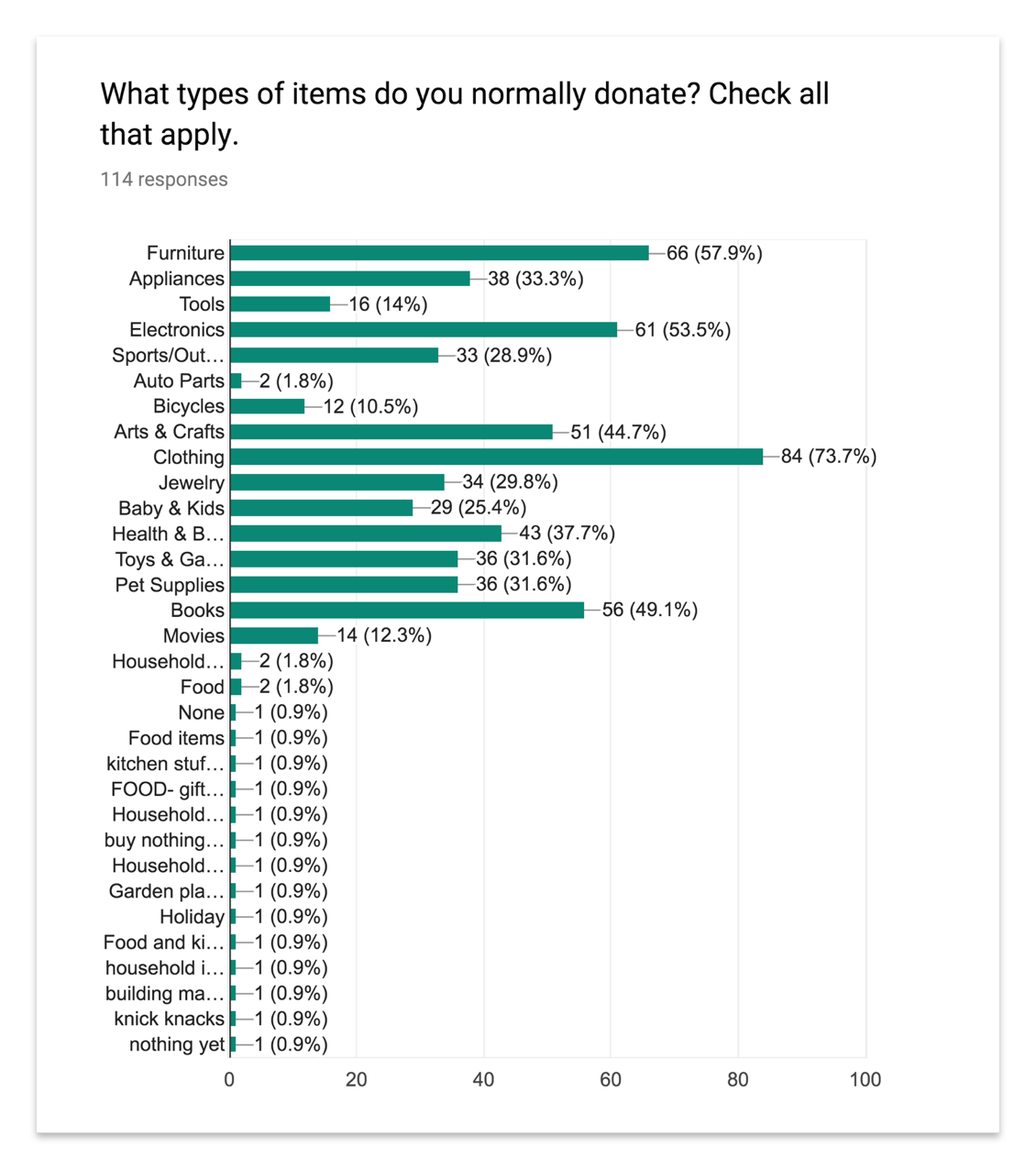 Defining Gifted Users
The results from the pilot study was used to define the characteristics of Gifted users. The findings suggested that demographics ranged across the board. From the data collected, five personas were crafted to represent the full spectrum of users and guide the design process.
Design Map
Still at a high level, I decided that a design mapping exercise would be the most helpful in visualizing the entire end-to-end experience. The design map seemed especially helpful in capturing a user's workflow, design ideas, and documenting questions and assumptions. The design map also allowed for me to explore future processes or features that can be incorporated into the Gifted app.
Usability Testing
A low/mid-fidelity prototype was used to test with four participants. The tasks required by participants were the following:
Sign up for an account/Login

Browse a specific category

Request an item

Post an item

Select recipient

Set up a time and location for pickup
Key Findings:
Sign up for an account – Three out of four participants were not sure how to set up an account with the "Continue with Facebook" option. A common question was if the "Continue with Facebook" option was only for existing Gifted users.

Home – The truncation of the post titles made it hard to read. The connection between photos and titles weren't very clear.

Profile – Participants were unsure if the photos they were seeing were items they posted.

Difficulty choosing recipients – Participants specifically requested a random drawing feature.

Set up a time and location for pickup – Although the feature seemed interesting to the four participants, there was hesitation in actually using it.
Final Thoughts
Reflection
With this project being a design for a full system, it would have been helpful to finalize my research plan before conducting user research. Although the research activities conducted were helpful in guiding the design process, it would have beneficial to gather additional qualitative data through user interviews.
Future Direction
With the user-centered design process being iterative, I would like to test a high-fidelity prototype with 3-4 participants for each persona. This will be incredibly helpful to gather data from the full spectrum of future Gifted users.